Some might think that, shampooing is always the best method for cleaning carpets. Most of us are unaware of the fact that, there are now more options for rug cleaning than ever before. There are some cleaning procedures that are good for eliminating light stains, while others are excellent for removing difficult stains. To ensure that you keep your home's carpets and area rugs as well as any other flooring materials in good condition and looking their best, in this article we are going to note down crucial distinctions between carpet cleaning procedures as well as some advice for keeping floors as clean as possible. 
With so many options and conflicting promotional claims, making a choice can be difficult. They all have benefits and drawbacks, and as experts, we know which solution is best for each case. 
Carpet Shampooing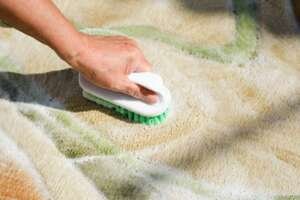 Both carpet and hair shampoo contain Sodium Lauryl Sulfate. It's the major ingredient in shampoo and a chemical used to clean carpets. This chemical turns invisible UV radiation into visible light. It makes the carpets look brighter than it is.
This strategy has been utilized since households and businesses put wall-to-wall carpeting.
Shampooing used to result in faster carpet dirt accumulation due to the shampoo residue left in the fibers. Therefore, it should be properly rinsed. At the same time, the process of shampooing can now be used as a pre-conditioning procedure to break down heavy soils in carpets and rugs.
This technique is widely used in high-traffic commercial settings including restaurants and motels.
"Shampooing carpets removes stains effectively but requires thorough extraction. As a result of sticky detergent residues left behind after shampooing, a home's rugs may appear dirty shortly after shampooing."
Pros of carpet shampooing
Helps remove thick soils and stains from the carpets

It cleans a lot of space quickly.

Although it contains water, it dries rapidly.
Cons carpet shampooing
Most manufacturers do not encourage this procedure because to the risk of damage from the harsh brushes

One of the major drawbacks is that it leaves residue on carpeting. All stains and spills are driven deeper into the fibers, out of sight.
Dry Cleaning
Dry cleaning is addressed by some people as "carpet absorbent cleaners". Although the term used is "dry' here, the product contains water, detergent, and solvent. 
Firstly, the compound is dusted on the carpet. The substance is designed to attract soiling with tiny "sponges," much like a dirt magnet. Soil particles and grime are vacuumed up after being lightly agitated with cylindrical brushes. Here the main advantage is, because this approach uses little water, it dries quickly.
Pros of Dry cleaning
The rapid drying time.

The operator does not require significant training.

Excellent for a quick touch-up or interim cleaning, especially in a 24-hour facility.
Cons of Dry cleaning
Most carpet manufacturers do not suggest this procedure since it doesn't remove much soil

Cleaning powders are only ideal for lightly stained carpets because they do not rinse and remove heavy spills.

Dust in the home might be caused by residues left behind in the carpet.
"Offices and households with busy families that can't wait for a carpet to dry choose dry cleaning! However, the detergents and chemicals used to dry clean carpets can be quite smelly, so this procedure may not be suitable for persons with allergies or lung issues."
Bonnet Cleaning
Bonnet carpet cleaning is a hard floor spray buffing for carpets. A rotating shampoo machine with a cleaning pad immersed in a carpet cleaning solution is used for bonnet cleaning. The machine's motion loosens dirt, which the cleaning pad grabs. Some carpet cleaners utilize Bonnet cleaning because it is cheap and simple. While bonnet cleaning is appropriate for spot cleaning, it is not suggested for general carpet cleaning. This approach is similar to shampooing.
Bonnet cleaning is quite harsh on carpets. For these and other reasons, most professional carpet cleaning services Singapore avoid using bonnet cleaning in their carpet maintenance plans. 
Pros of bonnet cleaning
Simple and easy

Good for quick commercial touch-ups.
Cons bonnet cleaning
 Fibers can be damaged if used in a domestic setting. Unless properly cleaned, fuzzing or swirl markings might become permanent.

It just pushes the gunk into the backing rather than removing it.
"Bonnet washing simply eliminates surface dirt from carpets, not deep filth. Bonnet cleaning is quick and inexpensive. Consider bonnet carpet cleaning if your carpets aren't filthy or matted down and you need regular, inexpensive carpet cleaning to keep your rugs looking their best."
Encapsulation
Encapsulation gained popularity in the 1970s. This method involves applying a liquid or foam detergent to your carpet, which dries to a vacuumable powder.
Dust is removed from carpet fibers and encapsulated into powder after drying. Then it's brushed up and vacuumed away. This is comparatively a low cost solution if you are interested in finding one.
Pros of Encapsulation
Encapsulation dries quickly

It is regarded as eco-friendlier than other methods

After vacuuming up the powder, there isn't much chemical left behind, and it doesn't use much water or electricity.
Cons

of Encapsulation
While it has some advantages over other carpet cleaning methods such as shampooing, it is not as successful at removing heavy-duty carpet messes like odors and stains from deep within the carpet fibers.
Hot water extraction/Steam Cleaning
It's called "steam cleaning" even though no steam is utilized. Pre-spray the carpet with a light detergent first. A hot water injection follows. An industrial-sized vacuum removes water, detergent and soil from the carpet.
This is best done with a powerful machine in a van. Long hoses enter a building, leaving noise and aromas outside. Most manufacturers, including Shaw Industries and Mohawk, advise this strategy.
Pros of Steam Cleaning
Steam cleaning is healthy for the environment and for persons who are chemically sensitive.

Steam cleaning takes less time to dry than carpet shampooing and most of the other carpet cleaning methods

Because the steam is hotter than a carpet shampooer, it kills fleas, cockroaches, and their eggs in the carpet.

Removes dirt, stains, and spills well. Best way to remove pet urine and fur. That removes allergies and contaminants.

The most popular and recommended technique to keep your warranty valid.

Suitable for almost all carpet varieties, including wool.

The ability to apply the most diverse spotting processes to achieve the finest overall appearance.

Equipment and noise stay outside without troubling your office/home. 
Cons of Steam Cleaning
However, steam cleaning cannot remove stains that require detergents.

Inexperienced hands might over-wet carpet, causing wrinkling and odor difficulties.

Longer dry time. The timeframes are typically in between of 2-6 hours.

Carpet steam cleaning usually requires a professional service, making it less suitable for frequent carpet cleaning and more costly.
Foam Carpet Cleaning
You can also clean your carpets with foam. A cleaning solution is sprayed uniformly over the carpet, but then whipped into a foam. A spinning brush works the foam into your carpet. The foam may be vacuumed up after a few minutes because there is so much foam and so little water. The carpet will dry in about an hour, which is faster than alternative solutions. But you won't be able to get deeply ingrained dirt out of the carpet. 
Many customers have told us that these cleaning foams don't work well and tend to trap additional dirt and grease. 
Pros of Foam Carpet Cleaning
It is easy to use. You simply spray the foam onto the carpet, knead it in with a sponge or cloth, allow it to dry and then vacuum.
Cons

of Foam Carpet Cleaning
After applying the foam, letting it dry, then vacuuming the area, you may notice a bleach-like effect that is difficult to remove. While you may have removed the stain, you may have also removed the color! This results in an unattractive carpet patch.

Cleaning foams can harm your vacuum. The foam dries to a powder that can quickly clog your vacuum's filters and cause the motor to overheat.
Conclusion
The finest carpet cleaning option depends on your needs. Hot water extraction may be excellent for removing the most dirt. If your carpet doesn't like water, foam or dry cleaning is better. A less expensive but time-consuming option is carpet shampooing. Which procedure you employ depends on your carpets. 
If you are looking for professional and ideal carpet cleaning Singapore, contact Clean and Care today! We are recognized for providing the best carpet cleaning services in the country. 
How often you should clean your carpets? It depends on several factors such as how many people live there? And pets? The carpet's color and where it is also matter. As an acclaimed carpet cleaning services provider, we recommend professional carpet cleaning every 12-18 months. However high-traffic areas may require more frequent cleaning.